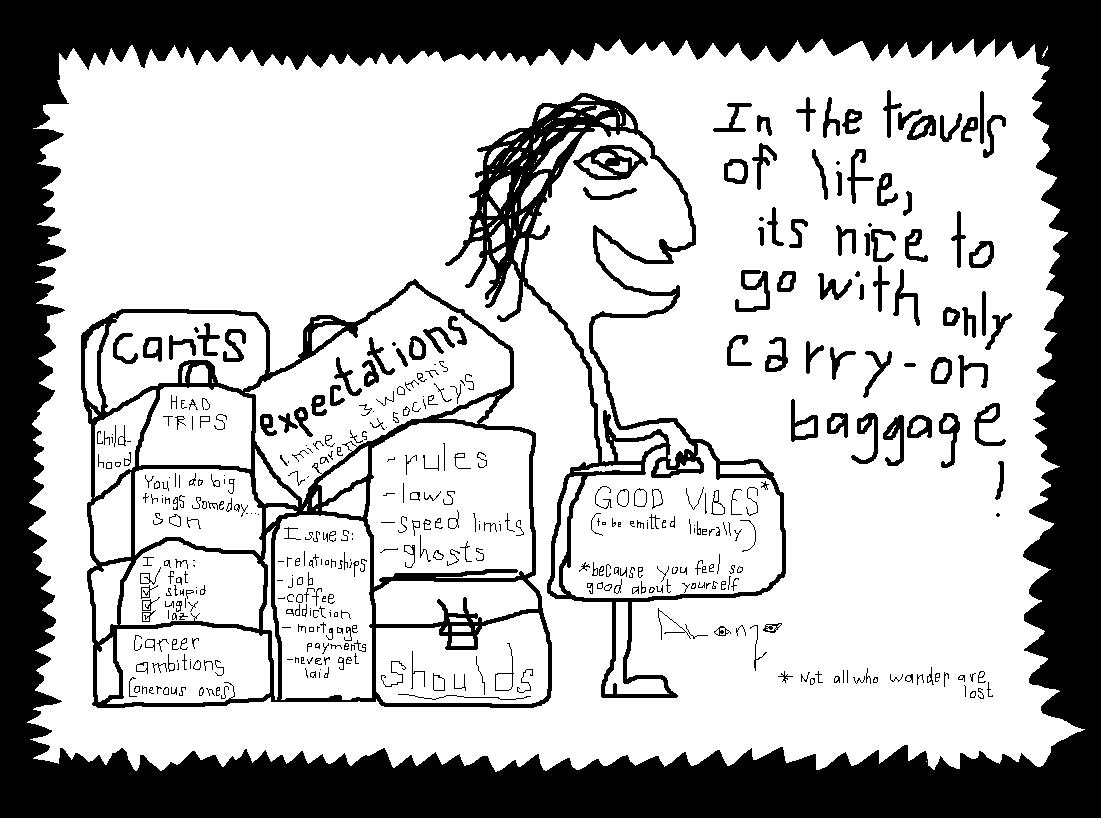 Dear Internet,
We all have baggage. Ex-Decorators as Carrie Bradshaw says. Or useless crap if you're Marin Frist and volunteering at the Elmo rummage sale.
Meredith Grey even had an insightful thing to say or two, "The expected is what keeps us steady-standing. The unexpected is what changes our lives."
And while I realize these moments of clarity are from prime time TV I can't help but take note when they align with things the universe has brought up in my real world too.
For instance...
My horoscope this week reads, "Pisceans must love their oceanic emotions unconditionally; must see their endless inundation as a privilege and a blessing; must learn to surf the endless tidal wave with exhilarated gratitude..."
My past two yoga classes have been about grounding one part of your body in order to let go and be free in another.
And when I had dinner with one of my older sage friends she reminded me that if I am happy then I need to let go of all the suppose to's because there's nothing more to do.
All I have to be by 25 is content.
It's dropping the bags of expectation. Of past wounds. Of insecurity. And getting on the train bag-less that none of these people told me how to do.
I suspect because while a grand idea in theory letting go-surrendering to the unexpected-experiencing freedom-is something no one really knows how to do gracefully. Not to mention it's scary as hell.
I'm a pack rat by nature and try as I might there are just some feelings I can't let go of even though I know dropping them would make room for newer better things. I might need them for something one day.
Plus my baggage is what I stand on sometimes. What keeps me company when I am alone. What I have to keep me afloat when there isn't an extra headboard to cling to.
Then other times it's what drags me down to the bottom. What keeps me shouting and crying. When I should be shutting the fcuk up.
But who would I be without all that stuff?
Isn't what's packed in my bags who I am?
And then we come back to prime time TV, to my yoga, to my horoscope. Sometimes you need to let it go. To sell it for 50 cents. Because it's old and broken and covered in dust. Because it doesn't serve you anymore. Because a record isn't good without a player. Because moth eaten and holey isn't nearly as comfortable as shiny and new.
So I ask you what are you going to let go of?
I will if you do too.
-The Paper Doll thinks there's strength in numbers
*Above image is from http://www.alonzo.org/